Green Bank for Appalachia, Energy Communities, and Underserved Rural America
THE GREEN BANK FOR RURAL AMERICA
The Green Bank for Rural America will grow the next generation energy economy, supporting thousands of businesses and creating thousands more quality jobs in economically distressed areas while reducing the carbon footprint in target communities.   This effort is anticipated to be supported by funding from the EPA Greenhouse Gas Reduction Fund (GGRF – CCIA), the Appalachian Regional Commission, as well as private investment from corporate and philanthropic partners.  Appalachia and Rural America have powered the economic growth of our nation – from coal, to oil, to natural gas – and the Green Bank will help ensure these communities are well positioned to leverage opportunities presented by the new energy economy.
This Green Bank and related programming are envisioned to be funded at $1 billion to provide financing for development transactions and growing businesses, and will partner with financial institutions – banks, CDFIs, credit unions, New Markets Tax Credit Funds, Opportunity Zone  investors, Historic Tax Credit investors, public sector Revolving Loan Funds, Angel Investment funds, and other impact investors — to leverage substantial new investment in rural communities. Technical Assistance partners will deliver needed services to projects and businesses to ensure high impact projects are financed, with assistance to include financial structuring, business plan development, market studies, engineering and design, access to related energy tax incentives and grants, and needed workforce training.
This new financing and related development assistance will accelerate economic restructuring and diversification in underinvested communities across Appalachia, coal communities nationally and those with power plant closures, and other distressed rural areas.
$1 billion in funding for the Green Bank for Rural America is anticipated to result in $800 million in direct financings over four years, which will leverage an additional $1.7 billion from other sources, resulting in $2.5 billion in low carbon development transactions supporting thousands of projects and creating nearly 14,000 new quality jobs.
The Steering Committee for this effort is composed of leading regional and national development finance organizations with a track record of high impact investments in low-wealth rural communities.  This team has deep knowledge of community needs and financing opportunities, supporting thousands of transactions in the targeted rural communities, as well as exceptional expertise at structuring and managing development finance portfolios exceeding $5 billion.
CAPITALIZATION FUNDING AND TECHNICAL ASSISTANCE AWARDS TO PARTICIPATING COMMUNITY LENDERS AND INVESTORS
The Green Bank will disburse Capitalization Funding and Technical Assistance Awards to participating CDFIs and other public and non-profit loan and investment funds, bringing new investment to target communities, creating quality jobs and businesses that support sustainable growth.
A total of $800 million in capitalization funding to ~80 participating community lenders and investors serving rural areas are anticipated to be provided.  Most capitalization funding will be provided in commitments of $10 million or less, while some capitalization funding is anticipated to range from $10 million – $50 million.
Participating Community lenders and investors will also receive Technical Assistance grants of 10% of their capitalization funding.  These grants funds may be used to support project development, provide pre-development services, expand lender / investor capacity, and provide other project support.
The Green Bank for Rural America will also provide Technical Assistance services to participating lenders and investors to build capacity, develop new products, ….
The Green Bank for Rural America will be structured to be a self-sustaining entity.
COMMUNITY ENGAGEMENT AND WORKFORCE DEVELOPMENT
The Green Bank for Rural America will work closely with community engagement and workforce development partners to ensure financed projects address community priorities, and that new job opportunities are prioritized for local residents.  Community engagement partners will include local community based organizations, regional development organizations, local government leaders and others to ensure financed projects support a community's vision and build on community strategies.  Workforce development partners will include community and technical colleges, workforce boards, unions, and industry training and certification partners – to ensure that rural residents have an on-ramp to high quality employment opportunities in the new energy economy.
The Green Bank for Rural America will target the 13-state region of Appalachia, Coal and Power Plant Communities nationally, and other underserved rural areas such as Persistent Poverty Counties, NMTC Low Income Communities, federal Opportunity Zones and other areas. See link below for more information, and here.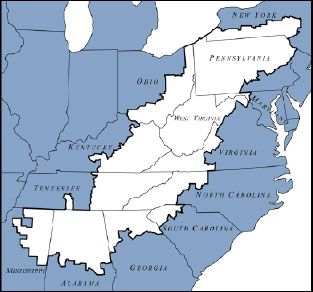 Appalachia –  Appalachian Regional Commission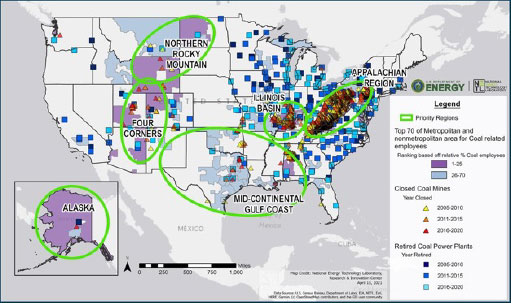 Coal Communities and Power Plant Closures –
White House Interagency Working Group
REQUIRED LETTERS OF SUPPORT FOR THE EPA CCIA APPLICATION
Please consider providing these required letters of support, which are essential for a successful application for this opportunity. These letters are due to ACC by September 21.
Letter of Interest template – for Community Lenders and Investors. Download here.

Please also complete this Community Lender Survey – here.

Letter of Support template – for communities and community-based organizations. Download here.
Letter of Commitment template – for workforce development partners. Download here.
LINKS FOR ADDITIONAL INFORMATION:
Informational Webinars – recorded sessions:
September 11, 1:00 ET – for Community Lenders and Investors: CDFIs, public and non-profit loan funds, public and non-profit investment funds. View Recorded webinar here. View presentation deck here.