ACC Members have an impressive lending record throughout their service areas, including Appalachia. The majority of members report their loan activities to Aeris (an information service that provides ratings for CDFIs based on their performance). Several members who are not Aeris reporters independently provided loan data for analysis. The charts below highlight the performance of 13 of 20 members.
TOTAL ASSETS / TOTAL LOANS OUTSTANDING
Total assets for ACC Members grew at a compound annual growth rate (CAGR) of 13.1% from FYEs 2015-2019, with total assets of $740 million at FYE 2019. Total loans outstanding grew at a CAGR of 15.0% to $477 million at FYE 2019.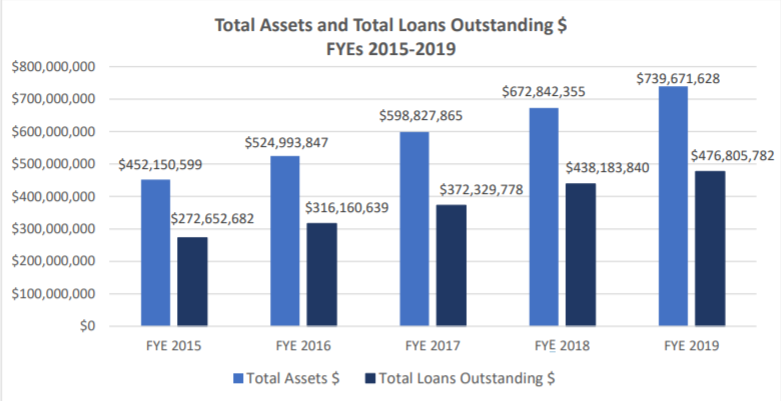 LOANS DISBURSED
Over the last five-year period, from FYE 2015-FYE 2019, Aeris Reporting ACC Members have collectively provided $700 million in capital. The dollar amount of annual loans disbursed grew at a CAGR of 8.2% during this period.
1 ACC Member data included in this report: Access to Capital for Entrepreneurs (ACE), Carolina Small Business Development Fund, CommunityWorks, Finance Fund Capital Corp., Kentucky Highlands Investment Corporation, LiftFund, MACED, Mountain BizWorks Inc., Natural Capital Investment Fund Inc., Pathway Lending, South Carolina Community Loan Fund, Southeast Kentucky Economic Development Corp., and Virginia Community Capital. The data for this report was provided by the Aeris Cloud and Aeris Rating Reports.
LENDING PERFORMANCE FYEs 2015-2019
From FYE 2015-FYE 2019, the ACC Member portfolio had an average rate of loans past due greater than 30 days of 3.28%.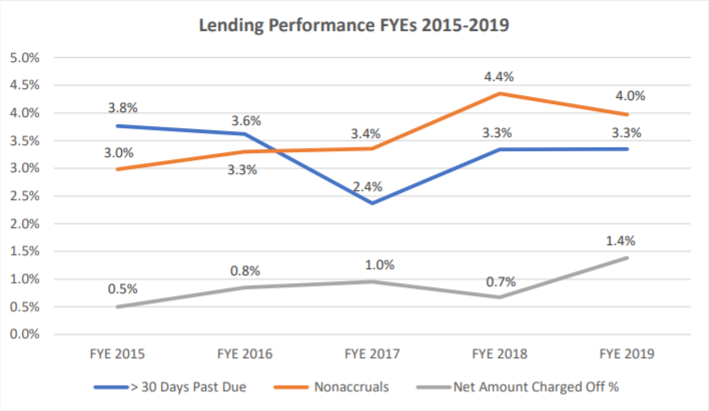 FUNDING SOURCES OF ACC MEMBERS
Funding Sources of ACC Members at FYE 2019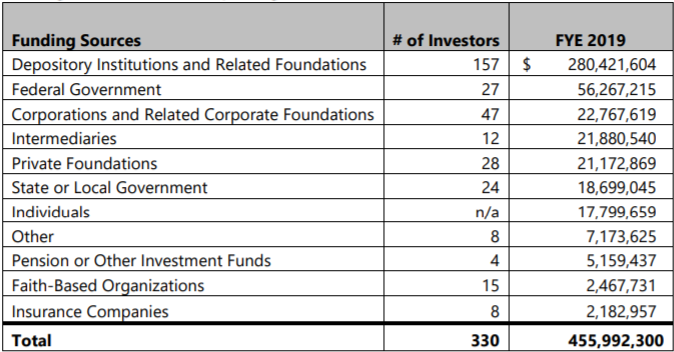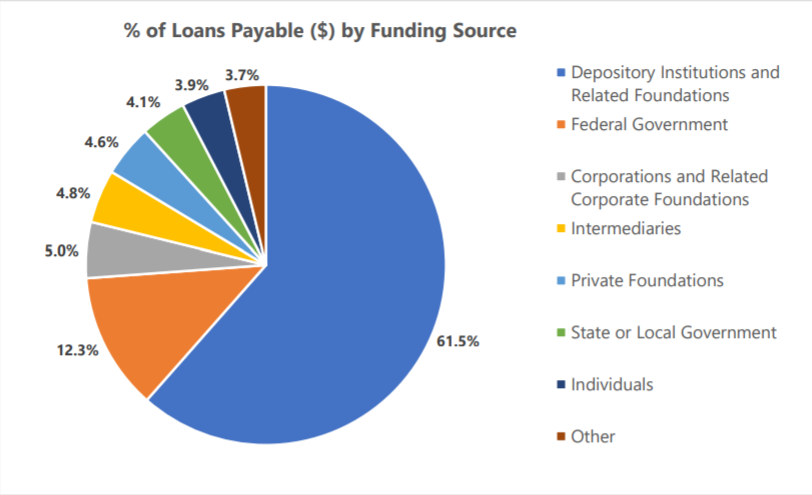 ACCOMPLISHMENTS TO DATE
Since the close of its 1st capital raise in 2015, ACC has: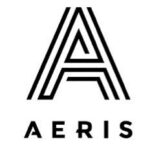 Charts prepared by Aeris