Opportunity Appalachia 2020 – 2021

The Opportunity Zone (OZ) tax program was enacted in 2017 and is anticipated to provide billions of dollars of new investment to low-income communities throughout the nation. Knowledgeable observers anticipate that much Opportunity Fund capital will be invested in gentrifying communities in growing urban areas. In addition, smaller cities such as Louisville KY, Cincinnati OH, and Erie PA have already developed robust strategies to attract Opportunity Fund capital. Rural OZs are at a distinct disadvantage in attracting this financing as they 1) have fewer resources to enable them to develop community strategies and package transactions to potential investors, and 2) have investment opportunities that often provide lower rates of financial return then do faster-growing cities.
Opportunity Appalachia Program
In 2020, Opportunity Appalachia began working with a group of 16 projects in rural Central Appalachia (OH, VA, and WV) to provide technical assistance and structure financings with social and financial returns, bringing new investment and jobs to hard hit rural communities in federally designated Opportunity Zones.  After a year-long effort to provide design and architectural support, complete market assessments, develop business plans and prospectus, and facilitate investor introductions, 5 projects have identified financing sources and either have closed on their financing or are anticipated to close on $42M in 2022, creating more than 170 jobs in coal-impacted communities.  An additional 4 projects are likely to be financed later in 2023 at +$140M resulting in the creation of +1,000 additional quality jobs. As part of our efforts to maximize impact, many of these jobs target persons in recovery from substance abuse in our Appalachian coal communities.
These projects were drawn from a group of 42 applicants, and were selected for participation based on factors such as level of community support, anticipated community impact, and sponsor capacity.  In all cases, the selected projects were missing critical components required to move forward, but all had substantial promise to transform their communities.  Participating communities include places like Chillicothe, Ohio (population 21,700), Galax Virginia (pop 6,700), and Grafton, West Virginia (pop. 5,000) – promising places overlooked by conventional financial institutions. The participating projects support manufacturing facilities, downtown development, tech business, agricultural facilities, hotels / housing, broadband deployment, and retail enterprises, and are particularly important at this challenging time as local economies look to restart as public health concerns resolve.
For more information on the 2020-2021 Opportunity Appalachia program, please see 2020-2021 Project Portfolio below, and 2020-2021 Program Summary and Impact Statement here.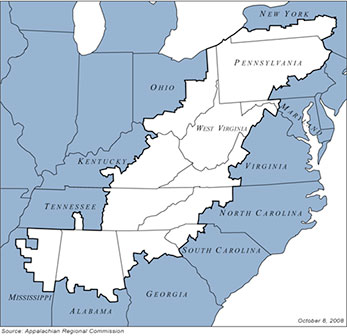 TARGET GEOGRAPHY
Central Appalachian Opportunity Zones – Ohio, Virginia, West Virginia
To advance these local efforts we assembled project technical assistance (TA) teams that worked with each community to address identified gaps.  The teams were composed of local, regional, and national TA providers, and included market research groups, state-wide architectural and engineering firms, regional CDFIs for financial structuring support, specialized consulting groups focused on select industries (broadband, recreation, ag …), and leading national development organizations (eg National Development Council). In addition, Main Street America (a preeminent national downtown development organization) and Coastal Enterprise Inc (a prominent national rural development CDFI) served on our program Steering Committee as national partners, providing invaluable guidance throughout the process.  (See Archive for details)
As we undertook this work, we reached out to over 40 private investors and federal and state agencies, facilitating investor access that was otherwise unavailable to our rural projects.  Presentation of pre-vetted projects to specific investors with a strategic fit, and providing highly visible access across multiple platforms – eg the Federal Reserve Bank Investment Connection, Opportunity Exchange, CDFA, and our Opportunity Appalachia sponsored Investor Convening pitch event – were important to successfully reach, and create credibility with, the investor community.  As a result, participating projects have identified financing from a diverse range of sources including OZ QOFs, NMTC CDEs, HTC investors, CDFIs, banks, and federal agencies.  (See Archive for details).
Some lessons learned include:
Stay close to the community – our program Steering Committee is composed of leading development groups in the target states with strong local relationships, which were essential to both assess local capacity, and to address challenges as projects progressed.
Investor participation is a full contact sport – Our ongoing outreach, institutional partnerships, and vetted portfolio provided both visibility and credibility for projects in rural communities often overlooked by the investor community.
Fill the gap – We worked with a group of 40 for-profit and non-profit TA providers through an RFQ process to support high quality multi-disciplinary teams to address the identified needs required to move each project forward.
Rethink / re-strategize when needed – when several projects hit roadblocks, we worked with communities and their TA teams to rethink the opportunity, which sometimes resulted in projects with additional sources of equity (eg NMTC), or downsized and phased projects that better fit available cash flows.
Focus on impact – when in doubt, keep the eye on the goal; transformative projects that catalyze change in low wealth communities. Using impact as our north star enabled decision making that cost effectively used / reprogrammed our resources – and identified additional resources – for maximum community benefit.
The program is a Forbes Opportunity Zone 20 Catalyst  which denotes a top national example of community-focused efforts to revitalize distressed communities.  Opportunity Appalachia is supported by a $1MM POWER grant from the Appalachian Regional Commission with additional support from the Benedum Foundation, and is managed by Appalachian Community Capital, a 23-member CDFI intermediary whose members and their affiliates manage over $1 billion in assets supporting economic development in Appalachia.
Selected Projects (2020 – 2021):
Opportunity Appalachia Project Portfolio:
The following projects were selected for participation in the 2020 Opportunity Appalachia program. (Investment Prospectus and pitch deck will be available on a new website shortly). For project videos, click here.
20 Federal Place, Youngstown, OH. $34M redevelopment of 330,000 SF historic downtown mixed use/community facility/retail site. Project Sponsor: City of Youngstown. TA Team: Steadfast City, Scarlett Oak Capital.
Blue Ridge Plateau Initiative, Fries, VA. Pathogen Free Sheep Production / farming for Animal Derived Materials research and medical products markets. TA Team: Matson Consulting, Merrik & Company, Advanced Regenerative Manufacturing Institute.
Bristol Sports and Events Complex, Bristol, VA. $15.6M new multi-use sports facility. TA Team: People Incorporated Financial Services, Thrasher Engineering, Synergy Sports Advisors.
Canal Warehouse Restoration, Chillicothe, OH. $8M redevelopment of 40,000 SF historic downtown Ohio & Erie Canal Warehouse to mixed-use retail/live-work spaces. National Register of Historic Places. Project Sponsor: City of Chillicothe. TA Team: Sunday Creek Horizons, Thomas P Miller & Assoc.
Cohen Building, Grafton, WV. $10M redevelopment of historic downtown building for use by identified for-profit and non-profit tenants. Project Sponsor: Unleash Tygart, Inc. TA Team: People Incorporated Financial Services, Thrasher Engineering, CohnReznick.
Green Industrial Manufacturing Ecosystem Inc. (GIME), Struthers, OH. $1.5M redevelopment of 6,000 SF former manufacturing facility, with three identified 'green' businesses as tenants. TA Team: KO Consulting.
Hotel Swisher, Somerset, OH. $3.2M historic boutique hotel, 15 rooms in downtown, locally owned, supporting tourism and outdoor recreation in drivable 'gateway' community adjacent to metros. Project Sponsor: Village of Somerset. TA Team: The Clay Christensen Group, LOCUS, Schooley Caldwell, HVS.
Micronic Technologies, Bristol, VA. $3.75M investment in high growth award-winning water technology company. TA Team: Genedge, Bear Technologies, PSP.
Morgan County Improvement Corporation, McConnelsville, OH. 22 Loft Style Apartments, $4.5M. TA Team: Sunday Creek Horizons, Thomas P Miller & Assoc.
mount TERRA LLC, Bluefield, VA. Two projects: Virginia Ave Warehouse redevelopment and Virginia Ave Boutique Hotel. $4M in downtown projects that supporting new anchor Fortune 50 tech business in Bluefield. TA Team: LOCUS Impact and Thrasher Engineering.
Prichard Revitalization, Huntington, WV. $36M redevelopment of historic downtown property, 50,000 SF of tenants identified including healthcare provider, regional university, and includes 100 units of affordable/workforce housing. Project Sponsor: City of Huntington. TA Team: National Development Council.
Staats Building, Charleston, WV. $6.6M redevelopment to 31,000 SF of mixed-use retail/housing for the 5-story historic structure, to include local foods / farmers market and artisan crafts. TA Team: National Development Council, ZMM Architects, Terrell Ellis & Assc.
Thundercloud, Inc, Fiber Network and Data Center, Huntington, WV. $20M fiber network and data center operated by local non-profit with support of leading community institutions. TA Team: Blue Ridge Advisory Services Group, Center for Business and Economic Research – Marshall University Research Corporation.
Tygart Hotel, Elkins, WV. $13M historic hotel redevelopment supporting tourism and outdoor recreation in drivable 'gateway' community adjacent to metros, for this 55-room hotel. Project Sponsor: Woodlands Development Group, local CDC. TA Team: The Mills Group, Steptoe Johnson, HVS.
Vaughan Furniture Building, Galax, VA. $92M redevelopment of historic downtown anchor building, to include 220,000 SF of residential, and 220,000 SF of retail, commercial, business incubator, and event space. Project Sponsor: City of Galax. TA Team: Summit Design and Engineering, Opportunity Virginia / LOCUS, National Main Street Center.
Zanesville Gateway Project 9118, Zanesville, OH. Project Sponsor: City of Zanesville. TA Team: Sunday Creek Horizons, Thomas P Miller & Assoc, MKSK Studios.
For Program Summary and Impact Statement, click here.
For independent program evaluation from Midwest Evaluation, click here.
Program Manager & Steering Committee
The Opportunity Appalachia Steering Committee is comprised of the following six regional and national organizations:
Program Manager
Appalachian Community Capital (ACC), a 20-member CDFI intermediary whose members and their affiliates manage over $1 billion in assets supporting economic development in Appalachia.
Lead State Partners – Lead Community Development State Partners
OhioSE – The lead regional economic development organization in Eastern and Southern Ohio working in a 25 county area, supported by Jobs Ohio.
Opportunity Southwest Virginia / UVA – Wise – Pilots the way for 19 counties and scores of communities in Southwest Virginia to support economic and community development efforts to create thriving entrepreneurial communities that accelerate progress for both new and established ventures.
West Virginia Community Development Hub – the leading community development organization in West Virginia, has worked with over 40 small communities across the state.
National Technical Assistance Providers
Main Street America With a network of more than 1,600 neighborhoods and communities, MSA works to successfully transform communities and revitalize local economies.
Coastal Enterprises – CCML, This leading national rural CDFI has deployed over $1.3 billion in financings directly and through CEI Capital Management (CCML) its New Markets Tax Credit CDE affiliate.
In addition, in each community/state there are capable partners that can be engaged to support OZ activities at the local level. Local OZ communities may select these local partner organizations to provide technical assistance for their OZ efforts, may select other capable and vetted regional or national organizations, may select the above Lead State Partners or National Technical Assistance Providers for this support, or some combination thereof. Local Partners can be engaged as needed/requested by local OZ communities.
State collaborators and planning partners informing activities in each state include:
Ohio: OhioSE, Governor's Office of Appalachia, Ohio Development Services Agency, Ohio University Voinovich School of Leadership & Public Affairs, Buckeye Hills Regional Council, Ohio Valley Regional Development Commission (OVRDC), Ohio Mid-Eastern Governments Association (OMEGA) and Eastgate Regional Council of Governments.
Virginia: UVA-Wise, LOCUS, Opportunity Virginia, VA Department of Housing and Community Development, LENOWISCO Planning District Commission, Cumberland Plateau Planning District Commission, Thomson Charitable Foundation, City of Wise, People Inc, Coalfields Economic Development Authority, Virginia Community Capital.
West Virginia: WV Community Development Hub, West Virginia Development Office, WV Municipal League, New River Gorge Development Authority, Advantage Valley, City of Huntington, City of Charleston, WV Forward, WV Brownfields Center, West Virginia University, U.S. Senators Manchin and Capito offices, Benedum Foundation.
Information on program activities including outreach meetings, application and selection materials, Technical Assistance RFQ process, and 2021 Investor Convening – here
For Program Summary and Impact Statement, click here
For independent program evaluation from Midwest Evaluation, click here
More information on Opportunity Zones
This program is supported by grants from: